Our ac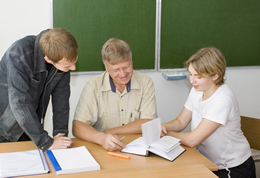 ademic programs provide an educational experience that prepare students for work, citizenship and an enriched life as an educated person, and lay a solid foundation for further study.
They provide a broad range of course offerings balanced with in-depth study in specific disciplines. Since many students will continue their studies, the degree requirements are sufficiently flexible to enable students to plan their educational program carefully and to complete the required prerequisites for upper level course work in their intended major.
It enables the preparation of students for entry into the labor market by incorporating essential and employability skills in all courses within a relatively short period.
It provides a means of facilitating the achievement of a degree by students who may move from one campus to another, and sometimes to another university.
It provides academic excellence through the qualifications of faculty.
Graduates of the Associate of Arts degree will acquire a combination of knowledge, core competencies and transferable skills that will provide them with the benefits typical of a solid foundation for further study in an Arts degree.
The Alexander College Associate of Arts degree requirements are the same as the requirements for all B.C. instutions that offer the Associate of Arts degree. The degree program integrity parallels existing Associate of Arts and Bachelor degree programs in the province.
Programs:
Please visit the Admission Requirements and Application Procedure pages for information on program requirements and how to apply.